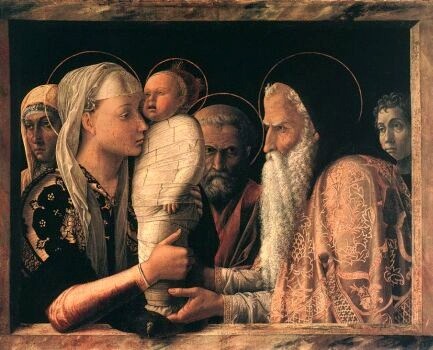 So this morning Lee was telling me how often he teaches yoga. Five times Monday and Tuesday, four times on Wednesday, three times Thursday, twice on Friday and once on Saturday. Sunday is his day off. "The Lord's day" I pronounced.
"Are you religious?" Lee asked. "Are you a Christian like?" I said I was no longer a Christian, although in my youth I was highly Christian. Then I remembered what I do for a living. I go to church five days out of seven, and on Sundays I sing at three services. I do more Christian observance than 99% of Christians. Last Sunday I listened to three sermons about Candlemas – the presentation of the baby Jesus to God in King Herod's temple in Jerusalem, 40 days after Christmas, just like Leviticus stipulates.
The account of the presentation is only in Luke's gospel. In it, Jesus' parents sacrifice the requisite animals – two pigeons – and an old man tells them how wonderful their son is. There is also a mysterious ancient anorexic woman who sings songs. I wouldn't be surprised if Luke had made it up. He was writing around 85CE. Who had told him about Simeon and Anna (the sage and the anorexic)? I suppose it was just possible Mary told him, but if she was 13 in 0CE, she would have been well into her nineties by the time Luke wrote his gospel. In any matter, it was Luke who chose the words. Well, Simeon's words, anyway. Anna was a woman, so her words weren't worth making up. Here is an English paraphrase of Luke's Greek that he put in the mouth of Simeon, who if he said anything at all, would have said it in Aramaic: "OK, I can die now I've seen the light of the world and the salvation of the gentiles." Luke was a gentile, so I suppose Jesus being a salvation to the gentiles was key for him. Simeon also prophesies that Mary's heart will be pierced. It's another one of those curious prophesies that pepper the gospels. At least Matthew looks in the old testament for his. Luke just seems to make his up – I don't think he was being mendacious – he was merely trying to communicate a truth as he saw it in the idiom of the time. He was trying to make it dramatic for us, bless him.
The preacher in the first sermon I heard today was terribly enthusiastic. He thought Simeon was an actual guy who thought that Jesus had come to die for the sins of the whole world. I don't think Jesus thought that. It's debatable whether Luke thought that. Christianity was evolving very rapidly in the first years of the first century. It is still changing today. It has evolved and branched, and the things Christians believe today are not at all the things Christians believed 2000 years ago. Luke's mate, Paul of Tarsus had started to zip Greek ideas about Gods together with Jewish ideas about God, but the ideas kept coming, and the Christian virus mutates prodigiously into a multitude of denominations.
Hell is a great example of how ideas warp over time. The Jews had the concept of Sheol – the pit. The pit was a literal pit in a valley outside Jerusalem, and contained rubbish and filth and actual dead bodies. The Greeks had the concept of Hades, which is where everybody went when they died – you know rowed by Charon across the river Styx and all that. Lucifer's domain, with its everlasting torment only emerged after the first Millennium. Dante had more to do with current ideas of Hell than does the Bible. Yet tiresome Bible-believing Christians assure me that lakes of unquenchable fire are going to be my post-death residence unless I change my ideas.
Christianity was the illegitimate love child of Jewish and Greek concepts of the divine, and Paul was the midwife. But that was just the start of the process. The illegitimate child has grown up. Maybe she is near to death. Maybe she is about to give birth to something different. It is hard to know where we are in the lifetime of a religion, but I suspect Christianity is well into its dotage.
Maybe it is better to consider Christianity a banner for a whole family of related religions. So for instance, are Catholicism and Protestantism the same religion, or different related species? Realising religions have evolutionary trees makes Christianity's mistrust of Darwin completely understandable.